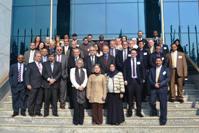 Photo Credit WHO
# 7539
Overnight Crof carried a report on a study appearing in the International Journal of Infectious Diseases, that suggests a 51 year old man who become infected with the MERS coronavirus during a hospital stay last February in Saudi Arabia probably contracted it from an asymptomatic or unrecognized mild case.
Over the past month, with better testing methods now available, Saudi and UAE health officials have reported on roughly a dozen asymptomatic  or `mild' infections (see ECDC: 6th MERS-CoV Rapid Risk Assessment).
While mild cases provide a welcomed lowering of the mortality rate of this virus, they also open the possibility of unrecognized spread of the virus in the community. 
Until now, we've not seen any credible evidence of forward transmission from an asymptomatic patient, which has fostered the hope that asymptomatic cases might not be very contagious, and are more apt to turn out to be a`dead-end' for the virus.
In today's study, we learn of a man who – while hospitalized in a Saudi facility that reported  no other MERS infections – fell ill with the virus 14 days after admission.
With a presumed incubation period of less than 14 days, this suggests he was infected during his hospital stay – and likely from an unrecognized mild or asymptomatic patient, visitor, or staff member.
The other possibility is that the incubation period can sometimes be longer than 14 days. But we can only go with the evidence we have at the time.
First the abstract, then I'll return with more.
Original Research Article
In Press, Corrected Proof,

Available online 2 August 2013


Ali S. Omrani, Mohammad Abdul Matin, Qais Haddad, Daifullah Al-Nakhli, Ziad A. Memish, Ali M. Albarrak

Background

Ninety confirmed cases of Middle East Respiratory Syndrome Coronavirus (MERS-CoV) have been reported to the World Health Organization. We report the details of a second family cluster of MERS-CoV infections from Riyadh, Saudi Arabia.

Methods

We present the clinical, laboratory and epidemiological details of 3 patients from a family cluster of MERS-CoV infections.

Results

The first patient developed respiratory symptoms and fever 14 days after admission to hospital for an unrelated reason. He died 11 days later with multi-organ failure. Two of his brothers presented later to another hospital with respiratory symptoms and fever. MERS-CoV infection in the latter 2 patients was confirmed by reverse transcriptase polymerase chain reaction testing. All 3 patients had fever, cough, shortness of breath, bilateral infiltrates on chest x-ray, thrombocytopenia, lymphopenia and rises in serum creatinine kinase and alanine transaminase. No hospital or other social contacts are known to have acquired the infection. It appears that the index patient in this cluster acquired MERS-CoV infection whilst in hospital from an unrecognized mild or asymptomatic case.

Conclusion

MERS-CoV acquisition from unrecognized mild or asymptomatic cases may be a more important contributor to ongoing transmission than previously appreciated.
Asymptomatic, subclinical, or extremely mild symptoms with viral infections are quite common, and with some viruses are the norm rather than the exception.
A classic example being polio, where 95% of those infected remain asymptomatic, yet they are still capable of spreading the virus.
Last year, in The Very Common Cold, we looked at a study of college students that found asymptomatic Rhinovirus infections led symptomatic infections by a whopping factor of 4 to 1.
Those with asymptomatic infections showed lower viral loads than those displaying cold symptoms - suggesting that they may be less efficient spreaders of the virus – but we don't have enough data to know how much of a viral load it takes to spread the virus.
Also last year, in  PLoS One: Influenza Viral Shedding & Asymptomatic Infections, we saw a small study that found 21% of adult secondary influenza cases were asymptomatic or subclinical, yet they shed roughly the same quantity of virus as those showing clinical signs of illness.
While there are few studies looking at asymptomatic SARS cases (another coronavirus) from 2003, we've a serology study that found a small, but significant percentage of asymptomatic cases (EID journal  2005 Asymptomatic SARS Coronavirus Infection among Healthcare Workers, Singapore).
In this study, the incidence of severe disease among those seropositive for the SARS virus was 82%. Only 4% displayed milder symptoms, while surprisingly, 13% were asymptomatic. 
Admittedly, MERS-Cov isn't SARS, but it's the closest analogue we have right now.
Transmission of SARS – even among those who were seriously ill – varied widely. A few patients were `super-spreaders' - infecting multiple contacts - while a great many did not appear to transmit the virus forward at all (cite MMWR Severe Acute Respiratory Syndrome --- Singapore, 2003).
The role (if any) of asymptomatic transmission during the SARS outbreak a decade ago remains poorly understood.
Although we've only one report of probable viral acquisition from a mild or asymptomatic source, there are other cases out there that  may well have been infected in a similar fashion.  
While sporadic community cases occurring across the middle east over the past 18 months have been assumed to be the result of a repeated spillovers from an (as yet, unknown) animal host, some could also be the result of transmission from a mild or asymptomatic case.
The only way to get a handle on the true incidence of this virus is through extensive testing – not only of those showing symptoms – but of the general population as well (serology studies).
A topic that Dr. Ian Mackay writes at length on this morning in his excellent Virology Down Under blog. Follow the link to read: