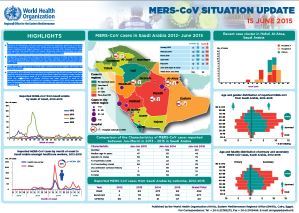 # 10,245
The World Health Organization's EMRO website has posted an update, and an infographic, updating MERS activity in Saudi Arabia as of June 15th, 2015.
Of particular interest is a graph showing the outbreak in Hofuf (aka `Hufoof', `Hafuf') which began in Mid-April and continues to produce cases. This graph shows at least two hospitals are involved.
Also of interest, while the number of MERS cases this year is reduced over the previous year, the CFR (case fatality rate) Jan-June is running higher this year (47%) than we saw last year, as is the percentage of patients who are male (76%).



This summary from the WHO.
View infographic on MERS-CoV update as of 15 June 2015

A total of 212 laboratory-confirmed cases of Middle East respiratory syndrome coronavirus (MERS-CoV), including 95 deaths (case–fatality rate: 44.8%) were reported from countries of the WHO Eastern Mediterranean Region between 1 January and 15 June 2015. The majority of cases were reported from Saudi Arabia (201 cases) followed by United Arab Emirates (4 cases), Qatar (3 cases), Oman (3 cases) and Islamic Republic of Iran (1 case).

Compared to 2014, there has not been any substantial increase in number of reported cases and the epidemiological characteristics of the cases reported in 2015 do not show any significant difference when compared with cases reported during the same period in 2013 and in 2014.

Males and median age group of 50–59 years continue to be the highest risk factors for acquiring infection.

Compared to 2014, although the cases have not registered a significant increase, small sized hospital outbreaks continue to be reported from Saudi Arabia and remain a major concern.

Since epidemiological week no 16, a nosocomial outbreak involving 2 hospitals in Hofuf city of Al-Ahsa of the eastern province has been reported. A total of 31 laboratory-confirmed cases of MERS-CoV, including 14 deaths (case–fatality rate: 45.1%) were reported from this outbreak. The date of symptom onset of last case reported from this outbreak was 2 June 2015.