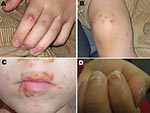 Vesicular eruptions in A) hand, B) foot, and C) mouth of a 6.5-year-old boy from Turku, Finland, with coxsackievirus (CV) A6 infection. Credit - CDC EID Journal

# 10,455
We've a slightly unusual report today out of Hong Kong's CHP describing 21 recent adult Hand, Foot & Mouth Disease cases at an institution in Wong Chuk Hang, Hong Kong. While adult infection with the non-polio enteroviruses (NPEVs) known to cause HFMD are not unheard of, large clusters of adult cases are pretty rare.
First the HK CHP report – which does not identify the virus behind this outbreak – then I'll return with a bit more on recent outbreaks of NPEVs.
CHP investigates hand, foot and mouth disease outbreak in institution

The Centre for Health Protection (CHP) of the Department of Health is today (August 27) investigating an outbreak of hand, foot and mouth disease (HFMD) in an institution in Wong Chuk Hang, Hong Kong, and hence appealed to the public to maintain strict personal and environmental hygiene.


The affected persons are 21 men aged from 18 to 30. They have developed fever, oral ulcers, and rash on their hands and feet since August 11. All of them have sought medical attention and none required hospitalisation. They have been in stable condition all along.


"Upon receipt of a report from the institution, officers of the CHP have immediately commenced epidemiological investigations, including a site visit and providing health advice to the management of the institution on necessary infection control and preventive measures. The institution has been under medical surveillance. Investigations are ongoing," a spokesman for the CHP said.

"HFMD is usually caused by enteroviruses (EVs) such as Coxsackie virus and EV71. It is clinically characterised by maculopapular rash or vesicular lesions occurring on the palms, soles and other parts of the body such as the buttocks and thighs. Vesicular lesions and ulcers may also be found in the oral cavity. Sometimes patients present mainly with painful ulcers at the back of the mouth, namely herpangina, without rash on the hands or feet," the spokesman explained.

To prevent HFMD, members of the public, particularly management of institutions, should take heed of the following preventive measures:


Maintain good air circulation;
Wash hands before meals and after going to the toilet;
Keep hands clean and wash hands properly, especially when they are dirtied by respiratory secretions, such as after sneezing;
Cover the nose and mouth while sneezing or coughing and dispose of nasal and oral discharges properly;
Stay at home until fever and rash have subsided and all vesicles have dried up.


The public may visit the CHP's page on HFMD and EV71 infection

(www.chp.gov.hk/en/view_content/16354.html) for more information.

Ends/Thursday, August 27, 2015
Issued at HKT 18:30
HFMD is normally a mild childhood illness, most commonly caused by the Coxsackie A16 virus (and more rarely by Coxsackie A10 ) here in the United States. In recent years, we've also seen the emergence of the Coxsackie A6 virus which has been linked to somewhat more severe HFMD cases (see 2012's MMWR: Coxsackievirus A6 Notes From The Field).
But it has been Enterovirus 71 that has been linked to the most severe cases of HFMD – particularly across Asia - with serious outbreaks recorded over the past 18 years in places like China, Taiwan, Malaysia, Hong Kong, Vietnam and Cambodia (see Updating The Cambodian EV71 Story).
This Hong Kong outbreak is unusual for two reasons. First, it involves more than 20 adults, and second, it is occurring in between the two classic yearly peaks of Hong Kong's HFMD season. According to Hong Kong's CHP: The usual peak season for HFMD and EV71 infection is from May to July. In the past few years, a smaller winter peak also occurred from October to December.

While EV-71 is considered the greatest of the HFMD virus threats, over the past few years we've seen a few reports suggesting adults may be more susceptible to the Coxsackie A6 virus. (See Journal of Clinical Virology Coxsackievirus A6-related hand foot and mouth disease: Skin manifestations in a cluster of adult patients).
The MMWR's Notes from the Field: Severe Hand, Foot, and Mouth Disease Associated with Coxsackievirus A6 — Alabama, Connecticut, California, and Nevada, November 2011–February 2012 published March 30, 2012 cited an unusually high number of adult infections.
Of the 63 patients, 40 (63%) were aged <2 years, and 15 (24%) were adults aged ≥18 years; 44 (70%) of the patients had exposure to a child care facility or school, and eight (53%) of the 15 adults had contact with children in child care where cases of HFMD were reported, or provided medical care or were related to a child with HFMD. Rash and fever were more severe, and hospitalization was more common than with typical HFMD.
While EV-71 remains the HFMD virus of greatest concern across Asia, in recent years we've seen outbreaks associated with CV-A6 reported in Singapore, Taiwan, Japan, and China (Cite).
It will be interesting to see if the test results confirm Coxsackie A6 as the culprit in this outbreak, or if this is an unusual presentation of one of the other HFMD causing viruses.