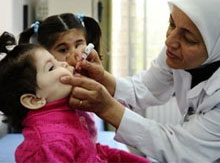 Photo Credit WHO
#  9325
In my lifetime we've gone from seeing Polio as among the worst of the childhood scourges to nearly seeing it vanquished around the globe, thanks to nearly 60 years of vaccination efforts.  But the Poliovirus – which just a few short years ago seemed on the verge of global eradication – has been making a bit of a comeback of late. 
So much so that last May we saw the WHO Declare Polio Spread A Public Health Emergency Of International Concern. 

Most of this backsliding is due to inadequate vaccination – particularly in war torn regions of the world, such as in Syria and Pakistan. But very rarely, as an unintended side effect of the oral polio vaccine (OPV), we'll see a few cases of circulating vaccine-derived polioviruses (cVDPVs) show up.
The oral (Sabin) polio vaccine contains three attenuated (weakened) polio virus strains, that activates an immune response in the body, and for a few weeks causes the weakened virus to be shed in the feces.  This is considered a `good' side effect, for in areas with poor sanitation, this vaccine-virus can spread in the community for a limited time onveying extra immunity.
But, as the WHO explains, every once in awhile this can go awry.
On rare occasions, if a population is seriously under-immunized, an excreted vaccine-virus can continue to circulate for an extended period of time. The longer it is allowed to survive, the more genetic changes it undergoes. In very rare instances, the vaccine-virus can genetically change into a form that can paralyse – this is what is known as a circulating vaccine-derived poliovirus (cVDPV).

<SNIP>

Since 2000, more than 10 billion doses of OPV have been administered to nearly 3 billion children worldwide. As a result, more than 10 million cases of polio have been prevented, and the disease has been reduced by more than 99%. During that time, 20 cVDPV outbreaks occurred in 20 countries, resulting in 758 VDPV cases.
Statistically, a drop in the bucket.  But for Polio to be completely eradicated, experts have warned that the use of the OPV must be eventually phased out, and the final push completed using the older inactivated Salk vaccine (see Nature Vaccine switch urged for polio endgame).

Unlike the oral vaccine which has been the workhorse of the global polio eradication initiative, the inactivated vaccine must be delivered via an injection, and by a trained healthcare professional.  It is also 10 times more expensive than the OPV.
Today the WHO reports on two rare, but  separate detections of cVDPV in South Sudan and Madagascar.
Poliovirus in South Sudan and Madagascar

Separate circulating vaccine-derived polioviruses confirmed in South Sudan and Madagascar

Disease outbreak news
14 November 2014

In separate and unrelated events, circulating vaccine-derived polioviruses (cVDPVs) have been confirmed in South Sudan and Madagascar.

South Sudan

In South Sudan, 2 cases due to cVDPV type 2 (cVDPV2) have been confirmed. The strains were isolated from 2 acute flaccid paralysis (AFP) cases in Unity state, with onset of paralysis on 9 September and 12 September 2014, respectively. In Unity state, as many as 33% of children remain under-immunized against poliovirus. Both cases are from an internally-displaced persons camp in Unity state. Unity state has been affected by civil unrest, leading to population displacements and declining vaccination coverage in most of the areas.

In 2014, South Sudan has been participating in regional Horn of Africa outbreak response, given the risk posed by an ongoing wild poliovirus type 1 (WPV1) outbreak affecting the region (with cases in 2014 in parts of Somalia and Ethiopia). Two National Immunization Days (NIDs) were conducted in April (with trivalent oral polio vaccine – OPV) and May (with bivalent OPV). In response to confirmation of the cVDPV2, NIDs were held on 4 November with trivalent OPV and further Subnational Immunization Days (SNID) covering the 3 states with civil unrest (Unity, Upper Nile and Jonglei) are planned for 2 December 2014 and January 2015 with trivalent OPV. The objective is to rapidly stop the cVDPV2 in the internally-displaced persons camp and prevent further spread, while further boosting immunity to type 1 polio and minimize risk of re-infection from other parts of the Horn of Africa.

Madagascar

In Madagascar, cVDPV type 1 (cVDPV1) has been confirmed after the virus was isolated from 1 case of AFP (onset of paralysis on 29 September 2014) and 3 healthy contacts. The most recent supplementary immunization activities in Madagascar were conducted in December 2011/January 2012. SNIDs are planned for December, with NIDs to be held in January 2015. An estimated more than 25% of children remain under-immunized against poliovirus in the country. Madagascar was previously affected by a cVDPV2 outbreak in 2001/2002 (resulting in 5 cases) and in 2005 (resulting in 5 cases). A VDPV was also isolated during a research study among healthy children in Toliara I in 2011. Concerted outbreak response each time rapidly stopped those events. However, repeated emergence of separate cVDPV events underscores the risk of these events occurring in populations which are not fully immunized and of the importance of maintaining high levels of vaccination coverage.

WHO risk assessment

Circulating VDPVs are rare but well-documented strains of poliovirus which can emerge in some populations which are inadequately immunized. Due to the small risk of cVDPVs, use of OPV must be stopped to secure a lasting polio-free world. OPV will be withdrawn in a phased manner, beginning with the removal of type 2-containing OPV. The type 2 component contained in trivalent OPV accounts for 90% of all cVDPV cases.

In South Sudan, given that the cases detected are in an internally-displaced persons camp which can be accessed for vaccination, the World Health Organization (WHO) assesses the risk of international spread of the cVDPV2 from South Sudan to be low. However, the risk of international spread would increase if other areas are infected by the cVDPV2. With regard to Madagascar, given the history associated with previous cVDPVs, WHO assesses the risk of international spread from Madagascar to be low.

WHO advice

It is important that all countries, in particular those with frequent travel and contacts with polio-affected countries and areas, strengthen surveillance for AFP cases in order to rapidly detect any new virus importation and to facilitate a rapid response. Countries, territories and areas should also maintain uniformly high routine immunization coverage at the district level to minimize the consequences of any new virus introduction.

WHO's International Travel and Health recommends that all travelers to polio-affected areas be fully vaccinated against polio. Residents (and visitors for more than 4 weeks) from infected areas should receive an additional dose of OPV or inactivated polio vaccine (IPV) within 4 weeks to 12 months of travel.